Kilham Stationery and Printing Company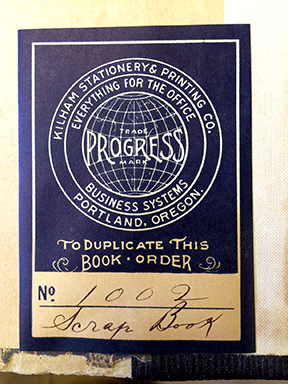 Photos:
The scrapbook label that started it all
Ad from the Morning Oregonian, 1905
Printing Trades Blue Book listing, 1937
For years I've been curious about the print shops of Portland's past, and the workers who helped keep the skills alive. The printing craft had a huge influence on the industries of this city, businesses here had both a ready supply of paper from local mills and the means to distribute printed matter by rail and boat early on in Oregon's statehood.
Last month I was looking through some Multnomah Typographic Union contract negotiation papers that were donated to the C.C. Stern Type Foundry, and noticed a little sticker at the front of the book. The sticker noted the scrapbook model number and the supplier — Kilham Stationery & Printing Company. This led me on a weeks long search to see what I could find out about the history of this shop, once located in downtown Portland. So here's what I've got so far:
Kilham Stationery and Printing Company was established in 1898 by Edward D. Kilham. Original incorporation documents and certificates held at the Oregon Historical Society show that initial stock owners included Howard's wife, Frances, along with other family members, in addition to Rowland Waltz (who had the majority, 25 shares) and James S. Ball (who worked for many years as company Director). When Howard passed away in 1929, ownership of the company was transferred to his son, Horace. Phil Mestcham and James Ball are listed as President & VP in the 1937 Printing Trades Blue Book, with Horace listed as the Treasurer. Howard's wife (and Horace's mother) continued to work at the company in a management role until her death in 1951 at age 79. Articles in the Oregonian suggest that she still went in to the office daily up until the time of her passing.
In 1900 two shop locations were noted, one at SW Fifth and Oak and the other at 267 SW Morrison, the second of which was closed in 1903. The flagship building at Fifth and Oak boasted "Everything for the Office" — six floors dedicated to office furniture and equipment, architects & engineers supplies, signage, leather goods, typewriter supplies, bound and loose leaf books, forms, bookkeeping equipment, date books, house numbers, pens, pencils, clocks, and more. On the fourth and fifth floors manufacturing of rubber stamps, printing, engraving, embossing, and bookbinding services were realized.
In 1963 George Goodall became President and Treasurer of Kilham. Goodall was initially hired in 1942, and was serving as Vice President of the corporation by 1958. His presence marks a continuity to the transition, aided by his Vice-President, Robert Hoyt. Hoyt started working at Kilham Stationery & Printing in 1946, and eventually succeeded Goodall as the President and owner of the company. At this time, the headquarters were moved to 134 NW 8th Avenue.
In 1979 the company was sold again, this time to Wakefield Mack. Robert Hoyt continued on as the general manager, presumably until the company was dissolved in February 1991. The final location of Kilham Stationery and Printing Company was at 509 NW 10th Ave in Portland.
In it's heyday, Kilham produced a number of books and pamphlets under it's own imprint, most of which seemed regionally focused. A sample of early color litho, Oregon in Color, can be found in manuscripts at the Oregonian Historical Society. The technique for color reproduction in this 1925 publication is much like the tri-color process we have been working to re-create at Stumptown Printers.
For commissioned job work, they offered Linotype and Monotype composition, along with hand set work in a variety of typefaces. Their print customers included advertising firms, small businesses, and larger manufacturers needing everything from customized office forms to a printed and bound catalog. Many customers hired Kilham to print promotional materials for their companies — postcards, pamphlets and brochures. Numerous advertisements from historical editions of the Oregonian newspaper advance their "Quality Printing" with the "BEST and COMPLETE service in everything pertaining to the printing art."
It's hard to beat that.
Postscript:
I am very interested in continuing to research other print and typography shops important to Portland's historical legacy. If you have any information, photos, corrections or tall tales, or can put me in contact with past employees or owners of shops, well then please do. -Rebecca